In this article...
Step 2: Setting the mode onto a day
Step 3: Set up the schedule with our newly made days
Introduction

Okay, but first, what is a mode?
A mode is essentially a block of time that dictates what contacts are contactable and apps are openable. They are fitted within days that are then assigned to schedules. These are the driving parameters of a Pinwheel device and defines what your child is able to do and when. Alternatively, you could set no parameters on the device and have everything available all the time. The choice is yours!
Days are the individual... days that are fitted into the schedule which holds all the modes in blocks. Days are just as crucial to set up as each mode is and we want to be sure that every mode we want in a specific day is thrown on.
Oh and NOTHING MODE:
Oh by the way, before we begin, if you don't have a mode defined at a certain section of time the phone goes into what is called "nothing mode", if your phone is in nothing mode, check your days to ensure it's all correct. Nothing mode just means they can't use any apps and only can contact emergency contacts.
How do we set up a mode?
Well, there's multiple steps, you have to define the mode, then you have to input it into a day and then assign that particular day to the schedule. Don't worry, it sounds more complex than it actually is. It's super simple and we're going to walk through all of it and how it works in this article. Vamonos, let's go!
---
Mode break down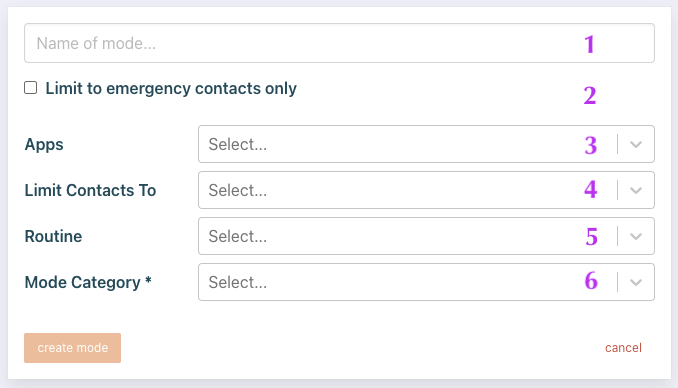 Name of mode. This one is a touch obvious, it's the name of the mode and what you want that to be. This will display on the kiddo's device and will be used as the indicator for the schedule later.
Limit to emergency contacts only. This checkbox determines if the mode will only be restricted to emergency contacts (see: Contacts) or not. Think: school mode, where your kiddo is at school and needs to focus on school work.
Apps. These are all the apps available in the mode, when you click the drop down, it will display a list of all apps sorted by category. If you select an app here that is not enabled (see: The App Boutique), it will enable it automatically.
Limit Contacts To. In the Contacts tab, you can assign contacts to groups, these groups are then assigned in this section of the mode. For example: if you want your kids teachers to be able to text him during school time, but not his friends, you can set a group "Friends" and a group "Teachers" and only allow "Teachers" in school mode. Emergency contacts are always allowed to be contacted, even if not in a group.
Routine. This sets routines to the device. (see: Routines)
Mode Category. This is just a pointer to when the mode will be used. It helps with scheduling later.
---
Step 1: Defining a mode
If you're creating a new mode, press the button designated below. Otherwise, you can press the pencil on any pre-existing modes to edit those. (Or you can just skip this step if you want to use our predefined modes!)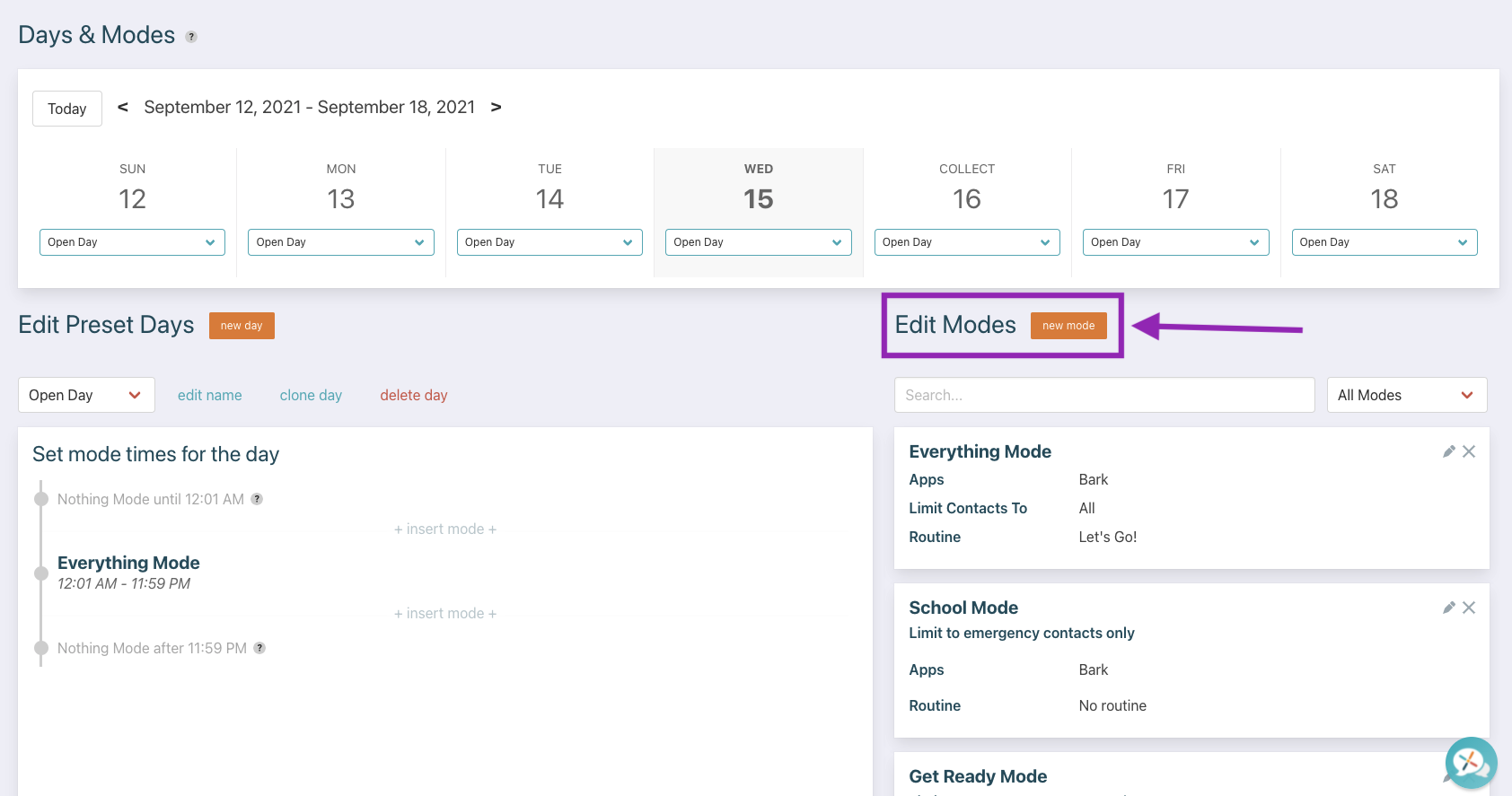 Once you go to edit or create a new mode, it will direct you to the mode break down. Go ahead and set up the mode to be how you want it. None of the categories are required except the mode name and mode category.
---
Step 2: Set the mode onto a day
Days are where we actually utilize each mode we've created to structure our kiddo's actual, well, day! You can use one of our pre-existing days or create a new day... check out what I do below: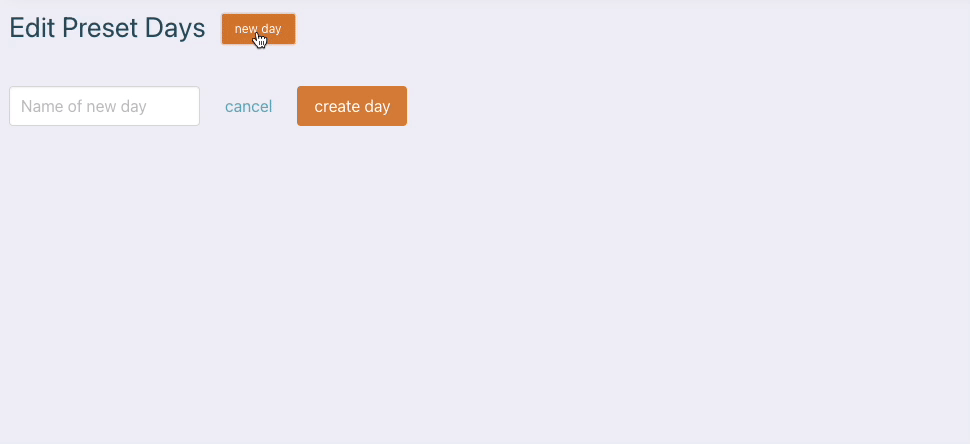 I know, I went fast. However, that was because it's super simple. You just insert your modes and define the times you want your modes to be in. If school is from 6AM to 4PM, set that to be the times and then give them a Relaxing mode where they can listen to some tunes at 4 PM to 5PM until they go into homework mode... the possibilities and set ups are limitless
If you want the phone to just be open all day, every day, go ahead and use our "Open Day" or create your own with "Everything Mode" going from 12:01AM to 11:59PM. (It can't be a 24 hour option because the way Android does things, there has to be 1 minute of nothing mode.)
---
Step 3: Set up the schedule with our newly made days
Once we've created some modes and put them into days then we can finally attach those days to our schedule, check it out:

Don't worry, you don't have to put every day into each individual actual day. As you can see above, it'll ask if you want it for EVERY Monday or EVERY Sunday. Go ahead and set your school days to Monday through Friday and make your weekend days on the weekend.
It doesn't always have to be EVERY Monday, you can select for just the specific date if you click the lower option on the prompt. For example: if your kiddo's birthday is on September 8th then you can set a "Birthday day" on that specific day and leave it for that. You are able to scroll back and forth in the schedule. (Not sure why you'd want to go back in time, but maybe you're reading this in a time machine.)
---
Step 4: Nope, no more steps, you're done!
Once you've assigned your modes to days and then scheduled all of it, you should be good to go. If you've changed a mode in the middle of your kiddo using the phone, they'll need to reload the device to get the update.
Once that's done they'll be able to see their current mode and all of the modes coming to them in the timeline on the device.
Here's a GIF of what the timeline looks like on the device: