In this article...
Selecting or creating a new routine
Introduction

What is a routine?
A routine is essentially a checklist that appears on the device for your kiddo to follow and do throughout the designated mode time. Routines are created and then added to individual modes (see: Modes) and are then aligned with your kid's schedule throughout his day.
Think things like: morning activities, what would you want your kid to make sure to remember? Brushing their teeth? Picking out an outfit for the day? Getting their stuff together in their backpack?
How do we set up routines?
We'll delve into the logistics now, but all routines are added to modes in the "Days & Modes" tab, so once you've created or found the ones you want, go ahead and add them into the modes you want them in.
As with modes, routines are grouped (Anytime, Morning, Afternoon/Evening, etc.) so they're easier to find, to open these groups to begin, just press the arrow on the left to bring out the menu of each group.
---
Selecting or creating a new routine
There's two ways to edit routines, you can either select a pre-existing one or one you've made before. To do this, you just click on the routine that you want.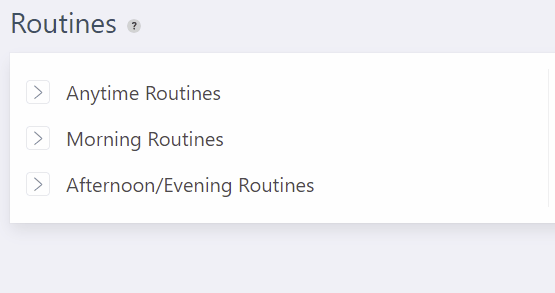 Or you can create a new one, just click "+ Add Routine" and then type in the name you want then press enter or return.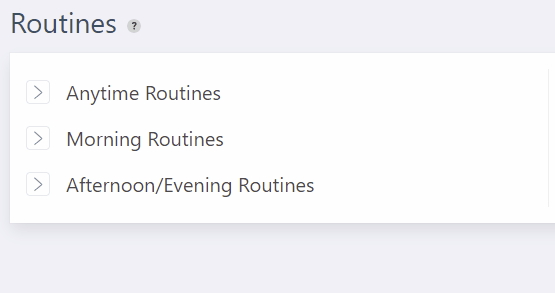 ---
Editing a routine
Once you've selected or created a new routine, you'll notice on the right a blank list that needs filling.

This is a list of tasks that you'll want your kiddo to complete throughout that specific mode. Go ahead and click and add your own tasks OR click and edit some existing ones. You can use the 4 dots on the left side to move them around which reorders how they appear on the device.
Routines save automatically, once you're done, you don't need to press save or anything.
Now all you have to do is add the routine onto the mode you want it on and you're done. If you want it to take place immediately on the mode on the device, you may need to reload the device.
Here's what it looks like on the device, when you're done: